Of all things my favorite is humanity, odd creatures that we are makes us endlessly fascinating to consider. You know my obsession with perspective – I often think it rules the world, even beyond ego. We are no less than we see in the mirror…….and often, more.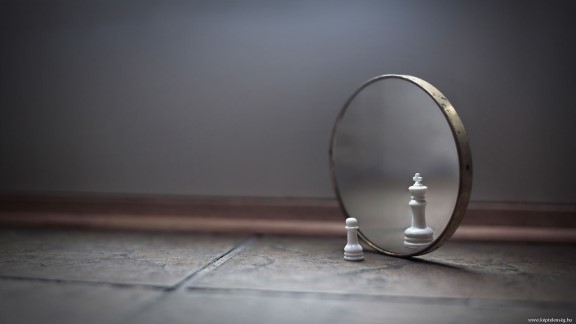 Ego drives who we want to be, perception drives who we think we are, and perspective colors how the world sees us.

We reinvent ourselves over and over through life; sometimes I think I shed myself more often than a snake sheds it skin. There is nothing more or less to be said for we humans than that we are adaptable. We are the SWISS Army species of the universe; equipped with a daunting variety of tools and means to protect ourselves, reinvent ourselves, mold ourselves, and rationalize most anything we have done, want to do, or just might do.

How we treat ourselves as compared to how we treat others is a flat out mind blower to me. I have treated complete strangers who passed through my life for a grand total of 3 seconds with far greater kindness that I am likely to give myself in a year. I can forgive the most egregious transgression against me, yet it can take me all day (or more) to forgive myself because I forgot the name of the pond on the RI-CT border (Beach Pond for those wondering)

I self-flagellate because of the simplest things, often berating myself the whole drive home at night because I should have done this or I should have said that, or whatever. My wife once drove my car (yes – my car) into the center portion of the house (yes – the house) in between the two overhead garage doors. She called me in tears to tell me she had broken both the house and my car and the first thing I said was "it was my fault because my brakes are soft" followed by the comment that the house broke because there was some rot in the wood so as it turns out hitting it was a good thing as it let us find the rot. Yet let me accidentally hang up on someone on the phone or forget someone's name and I won't speak to myself for the rest of the day.

But at the same time…….we all wear a cape under our shirts. At least I do. Yes. I am a superhero. In my mind. No matter the sporting event, at some point in my life I have mused that "I coulda' been a contenda'…." Never mind that I never once played tennis – I could have done alright at Wimbledon! That guy who ran to the burning car and pulled out the trapped puppy – yeah, I'd have done that! It's like the Secret Life of Walter Mitty in real life!

Many years ago my boss needed me to take on another responsibility in my job and asked if I thought I could handle it. My response? "With all due respect, there is no job in here I can't do." Really? From the same mind that brought us "uhmmm, errhhhh, uh" in his last metrics presentation and then drove home singing along to "Everybody Hurts". And the next day on the new job that same nut strolls in with a "Bond, James Bond" bravado. How can we not just laugh ourselves to sleep every night?

The duality of how we simultaneously place ourselves on pedestals and then knock ourselves off is brought to us straight from the minds of Monty Python – the twit of the week. We are the most absurd creatures sometimes. How do we ever take ourselves seriously??? How do we ever navigate this journey with all these foibles of humanity? Ironically enough we do so because of these very same frailties! Our ability to build ourselves up and tear ourselves down provides the balance and centered pivot point we need to bend and sway rather than break when life's winds rail at us.

I have watched myself conquer and be conquered – over and over and over in my life. And by now I know it is transitory; all things pass. We are but simple sine waves with varying frequency and amplitude – we're up and we're down. The one constant is the constancy of change.

We prepare for a major event; an audit at work. Two weeks beforehand we come into work with our cape billowing in the wind; our steely eyes focused on the 162 different tasks we need to complete to be ready for the audit. Like Flash we become a blur of activity, updating this data set, updating that report. And by lunch we're on the edge of the roof looking down at the ground thinking it is far too short a fall to be effective as we realize two weeks is nowhere near enough time to get all that work done. But by the end of the week we ended up knocking a pretty good hole in the list of things to do.

The next Monday we come back to work reinvigorated and plow through the 2 month delinquent annual reports like a John Deere on the north forty. And once again by lunch we are back on the roof trying to convince ourselves that we could at least maybe break a leg and that is surely good enough for a couple of weeks off, isn't it? What the hell were they thinking, hiring me? you ponder staring at the ground below. Me? Of all people????

And like the great celestial pendulum that drives the tide in and then back out again, we first convince ourselves that we "got this" and then convince ourselves that we are a horrible fake and don't even belong in a lollipop factory putting sticks in the candies. But the energy from that pendulum drives us like a giant flywheel imparting resolve, determination, and a Rocky-like set to our jaw. And come the Monday of the audit the reports are all up to date, the files are all in the right places and organized, and by God, "I think I lost a couple of pounds last week!"

By the day of the audit though, it's a whole different story. You've forgotten how to spell your name, you've locked yourself out of your PC because you forgot your password, and your stomach feels like it is digesting your liver and gall bladder millimeter by millimeter.

How did the audit turn out? It doesn't matter. Really.

I've strutted into audits like Big Bad John (stood six foot six and weighed 245, kinda' broad at the shoulders and narrow at the hips) and 6 hours later found myself sitting in the out brief watching my intestines spill out of my lifeless body and slosh and swirl all over the shiny conference room table, never seeing the silent scythe of death deftly wielded by the auditors as it sliced me (professionally) to my core.

And I've sneaked into through the backdoor of the conference room to quietly secret myself in the darkest corner only to be called up to the front to be handed the winner's trophy (no, not really – we don't get trophies where I work…..not a bad idea though!).

My point is, you never really know, and while losing sucks and winning is addictive, you will drink of each many times in your life. And that is OK because that is part of why we are here – the lesson of life is that life is the lesson.

And isn't that just spectacular in it's simplicity?